Good Grief: Catherine Mayer and Anne Mayer Bird In Conversation
EVENT INFORMATION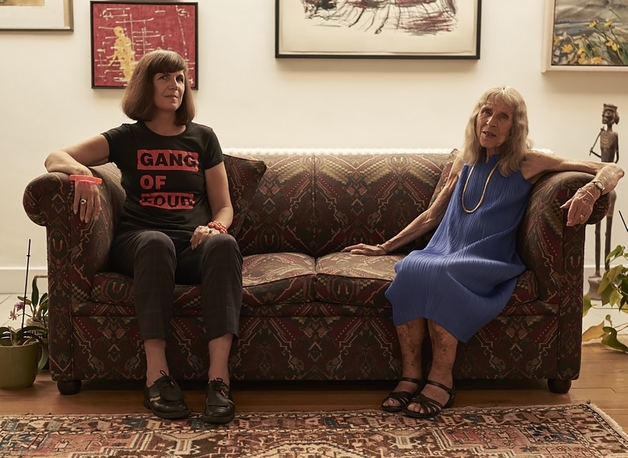 PLEASE NOTE: THIS TALK CAN ONLY BE BOOKED AS PART OF THE WOW FESTIVAL TALKS PASS. CLICK HERE TO BOOK.
Catherine Mayer and her mother, Anne Mayer Bird, lost their beloved husbands just 41 days apart on the eve of the pandemic.
Entering the nation-wide lockdown as new widows, they began meeting every week (socially distanced and in protective clothing) as Catherine cared for her mother and both women learned to navigate loss, 'sadmin', and unexpected dramas.
Their book Good Grief was a result of those meetings, and the conversations they had. Watch them here, in conversation with Anita Anand in March 2021, to talk about their intertwined stories of love and grief, and their thoughts, ideas and advice for anyone facing the loss of a loved one or wishing to know how best to support others in these circumstances.
They confront the unspoken fears and unhelpful stereotypes that leave so many unprepared to deal with death and unsure how to comfort anyone experiencing loss. Part memoir, part investigation, Good Grief also details Catherine's exploration of the possibility that her husband, the musician Andy Gill, whose death made global headlines earlier this year, might be one of the earliest victims in the UK of Covid-19. Above all, this is a book about love.
Catherine and Anne share their insights, pain, hope and humour, and detail how in losing the loves of their lives they found an ever-closer relationship with each other. 
This event features a performance by a WOW Sounds artist. Don't miss an incredible performance by genre defying artist anaiis whose breakthrough song Nina is a liberation chant and reclamation of freedom.
This event is BSL interpreted and captioned. Book to watch on demand all July via our WOW UK 2021 Festival Revisited Talks Pass.
This event is part of WOW UK 2021 Revisited - a very special digital programme offering people worldwide a second chance to explore some of WOW's International Women's Day Programme of groundbreaking In Conversations and interactive workshops. There's everything from mental health to activism during Covid, and from being a grandmother to being an artist in a pandemic (or both!). Find out about The WOW Foundation and its work year-round to fight gender inequality here.
About the speakers:
Catherine Mayer is an author and journalist. She is the co-founder of the Women's Equality Party and of Primadonna Festival. Her books include Amortality: The Pleasures and Perils of Living Agelessly; ATTACK OF THE FIFTY FOOT WOMEN: How Gender Equality Can Save the World! and Charles: The Heart of a King, a Sunday Times top 10 bestseller. Shortlisted for the Orwell Prize, she has also been named in Total Politics' Top Political Journalists, WIE Women in Excellence 2013, Progress 1000 Evening Standard Equality Champion 2016, Oxford University Suffrage Champion 2018 and Gender Equality Top 100: Most Influential People in Global Policy 2018.
Anne Mayer Bird is an American, who came to England, intending to spend just one year here and stayed for more than half a century and counting. As an arts publicist, she has worked across all the art forms – dance, theatre, opera, orchestra – and at many great institutions including The Place, Opera North, The National Theatre, The Young Vic, The Philharmonia Orchestra and The Royal Court Theatre. She is on the board of two theatre companies at present and in the past also served as a primary school governor.
Anita Anand (Chair) is a radio and television journalist and presenter of Daily Politics, The Heaven and Earth Show and Newsnight, and currently of Any Answers on BBC Radio 4. She has written several books including Sophia: Princess, Suffragette, Revolutionary and more recently, Koh-i- Noor: The History of the World's Most Infamous Diamond, co-authored with William Dalrymple. Her 2019 book, The Patient Assassin: A True Tale of Massacre, Revenge and the Raj, won the Penn Hessell Tiltman prize 2020. 
Waiver
Tickets are non-refundable.